Adopt a Monk Seal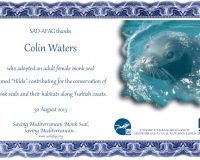 Adopt a monk seal and support the conservation of Monachus monachus and its habitat along Turkish coasts.
AFAG has been studying for the continued survival of Mediterranean monk seal, Europe's most endangered animal, since 1987, as the only dedicated NGO established in Türkiye for the conservation & research of the species and its habitats.
We develop and manage projects for the protection activities in coordination with the national and international organizations and find applicable solutions to problems. Your support will contribute increasing our struggle for protecting the Mediterranean monk seal along Turkish coasts and in the Mediterranean.
"Saving Mediterranean monk seal, saving the Mediterranean!..".
SAD-AFAG
Underwater Research Society – Mediterranean Seal Research Group
You will be part of the "Adopt A Mediterreanean Monk Seal Program" via adopting a Mediterranean monk seal in Turkish coasts with your donation USD 300 or EURO 270.
TÜRKİYE İŞ BANK (Account Holder: SUALTI ARAŞTIRMALARI DERNEĞİ, Ankara, TR)
IBAN: TR61 006 4000 0024 3710 1248 90 (EURO)
SWIFT: ISBKTRIS
***
AFAG e-journal "Akdeniz Gezgini", a "Thanks Letter", a "Certificate of Adoption" and a "Photo of adopted monk seal" are sent to supporters.
After remittance, please send the name and address for Certificate and also your remittance slip to [email protected]
***
---