Karabiga-South West Marmara Biodiversity Report Has Its Impact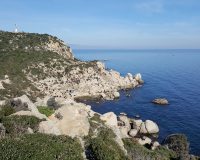 M-17-Karabiga-HT01 HT02 HT03 HT04 HT05 SAD-AFAG has issued Karabiga South West Marmara Biodiversity Report in February 2016. The report has been disseminated to the relevant Ministries, Karabiga Municipality and Town Council members and national & local scale NGOs and the investors.
It has been aimed that the Report will be utilized in the Court Case and Karabiga Municipality to be taken as a reference document. The report provides comprehensive information about existence of Mediterranean monk seals (Monachus monachus) with the related photo and video documentation as observed in the site several times in 2015 and 2016 by SAD-AFAG research team members as well as the avifauna and other land mammals observed in different seasons emphasizing the importance of the area.
SAD-AFAG's efforts paid off and the report was taken seriously by the Karabiga Municipality and the Town Municipal Council so that just after this report an important decision was taken so that apart from Güvercinli TPP (which is ongoing) and Karaburun TPP (which has not been started yet), no other coal fired TPPs will be accepted and approved by Karaburun Town Council and dissenting view will be provided from now on if a new TPP is asked by any organization. This decision became firm with a Decision signed by Karabiga Municipal Council members in 4 February 2016, which was delivered to SAD Project Team Defence KBA by one of the Municipal Council member.
5 coal fired TPPs had been planned side by side before 2010 on the coastal area between Karabiga and Aksaz Village (approx. 15 km. length coastline) as shown in the below map; one started construction while other 4 could not start until now as a result of intensive conservation and public awareness activities within the Defence KBA project.
The Karabiga Biodiversity Report (in Turkish) of SAD-AFAG is partially given below.
© SAD-AFAG Cem O. Kıraç and N. Ozan Veryeri, May 2016