Regulation Amended on Disturbance of Monk Seals in Sea Caves Along Turkish Coasts
The existing regulation on disturbance to Mediterranean monk seals in caves along Turkish coasts was amended as proposed by SAD-AFAG in January this year and published by DG Fishery & Aqua Products in the Official Gazette dated 13 August 2016. 
The amended regulation reads as follows; "It is forbidden to use any light source inside, diving by all means into, penetrating by swimming or any other means into, waiting and anchoring in front of caves, of either underwater or surface entrance, where Mediterranean monk seals live". The amended version of the related article appeared in both Professional Aqua Product Fishery Circular No 2016/35 and Recreational Aqua Products Fishery No 2016/36 published in the Official Gazette dd. 13 August 2016.
Altough ranking of the threats against Monk seals along Turkish coasts greatly differs from region to region in the country, disturbance to monk seals in sea caves, their ultimate refuge along the remote coasts, is a real menace for the species. This problematic issue is especially valid in the favorite coastal locations, in which tourist diving, cave penetration by swimming and daily boat excursions take place intensly, with cliff & rocky shores mainly in Mordoğan, Çeşme, Kuşadası, Bodrum, Fethiye, Dalaman, Marmaris, Kalkan, Kaş, Kekova, Kemer, Antalya (Falezler cliffs) and Alanya where monk seals  have permanent populations and even still breed in the country. Considering the fact that, suitable sea caves have been the only niche within species' habitat for reproduction and hiding for long periods in the recent decades, it's readily concluded that sea caves play a crucial role for the continued survival of this rare marine mammal.
The previous version has prevailed since 1991, which was simply reading "it is forbidden to use any light source inside and diving by all means into caves where monk seals live", which had also been proposed by SAD-AFAG originally in the very first National Monk Seal Committee meeting in Ankara in January 1991. However, in time, it's been realized that some of tourism stakeholders mainly daily excursions boats and some tourist diving companies have been diluting the above mentioned article of the Aqua Products Circular and claim that letting their customers enter the monk seal caves by boats or swimming are not covered by the previous regulation and therefore they have the option to penetrate the sea caves as they like. Therefore, SAD-AFAG deemed necessary for an amendment and prepared a neat draft and submitted to the DG Fishery & Aqua Products (under the Ministry of Food, Agriculture & Husbandry) in 5 January 2016 with its offical communique dated 5th January 2016 and No. SAD-16/03 given below and filled the "legal gaps" that are misused by some stakeholders.
Cem O. Kıraç & N. Ozan Veryeri SAD-AFAG
17 August 2016, Ankara
Article 8, Para (c) of the Aqua Product Circular published in 13.08.2016 showing the revised restriction on penetration into monk seal caves along Turkish coasts as proposed by SAD-AFAG with its communique letter dd. 5th January 2016. 
The new regulation paragraph replacing the existing regulation paragraph as explained above.
SAD-AFAG communique letter dd. 5th January 2016 addressed to DG Fishery & Aqua Products proposing the revised regulation article on restrictions to penetration into monk seal caves.
An excursion boat waiting just in front of a monk seal cave in which breeding occurred three months before this photo was taken. Falezler cliffs, Antalya. December 2015. (c) C.O.Kıraç SAD-AFAG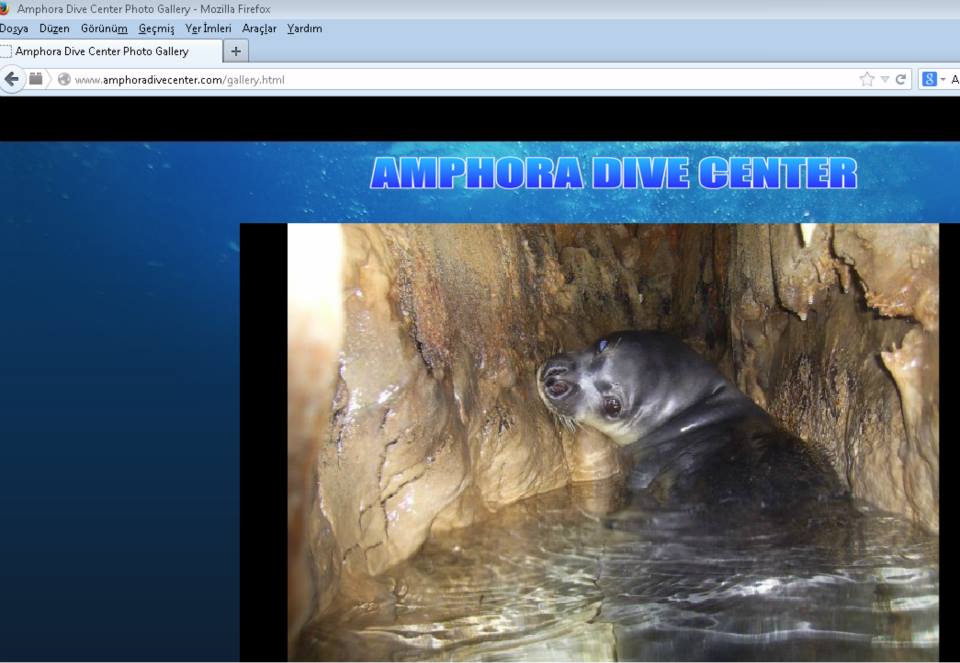 One of the best example showing how monk seals are pushed to horror inside their "bed rooms" by intruding diver tourists. Alanya, Levant Sea coast of Türkiye, Eastern Mediterranean, 2014.
***
***
Some recreational divers or dive guides of local diving tourism companies cause harassment, intentionally or unintentionally, to monk seals when they penetrate into sea caves used by monk seals along remote and pristine coasts. Monk seals have generally tendency to escape from caves immediately or show sign of great fear inside caves along Turkish coasts.